P

ROFILE
"Honesty is the first chapter, Integrity is our character"
Excel First International Limited We are a global trading company which is engaged in the natural resources business, namely in Coal, Wood pellet, Aluminium, Nickel, Oil and Gas, Palm Kernel Shell and other mining products. The Headquarter is located in Central Jakarta and all project's locations are throughout Indonesia.

Our purpose is to create long-term shareholder value through the discovery, development, operation, and marketing of natural resources. The company's board and management team have many years of extensive experience in the exploration, development, marketing, and operation.

And It is important to us to always build and maintain business relationship with our clients and business partners for long-term . Not only from Indonesia but from all over the world and we take pride in being a reliable business partner for them.


CSR & RESPONSIBILITY
We realise that we owe a social responsibility, We are always eager to creating a better future for people, we work together to make a positive contribution to the lives of people who live near our operations and to society more generally, Our ability to grow our company safely and in an environmentally responsible way is essential.

Director
Toyoharu Takahashi
We Provide best quality products and services with innovative, high quality solution to optimizing productivity , Committed to creating value for our customers and creating a bridge from need to market with expert insight ,and Become a trusted advisor for key technical and business decision at mines around the world.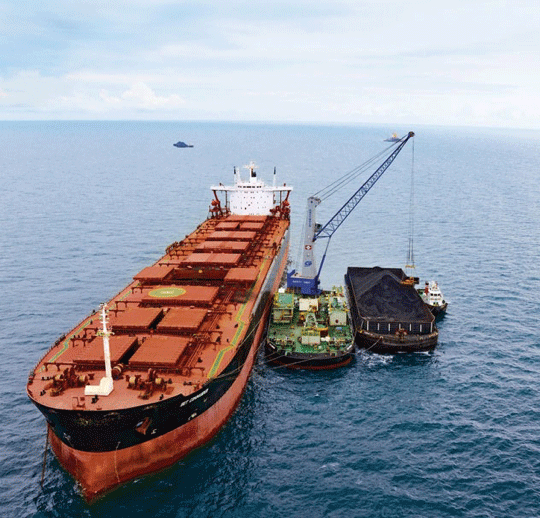 Visions
1. To be the largest,the most efficient coal mining company, and be a credible trading company , supported by integrated and committed professionals whose fully capable to serve any request
2. To be a trusted trading company which is always Providing a solution for the procurement of minings by the use of management principles that are responsible, integrated ,and to implement the principles daily in every contracts.
3. To improve our knowledge and expertise ,also maintain the partnership.
4. Creating value for our customers and creating a bridge from need to market with expert insight.
5. We assist the development and management of coal mining for the company benefit both local and global . And focus on organic growth strategy of coal production, aims to increase efficiency and cost control.
Missions
1.Being a responsible and trusted global company, It is Creating sustainable shareholder value of Indonesian mining.
2.Investing in other related businesses which will increase the shareholder value.
3.Expanding our business internationally, building strong relationship with our business partners and the financial community, and developing new trading partners as well.
4.We are always eager to acceleration of Economic development in our country, and Create a better future for people by developing the technology and qualified human resources.
5.Managing mining operations cost effectively and providing a solution for the procurement of minings by the use of management principles that are responsible and integrated.
6.Supporting community development and implementing the corporate governance practices
1. "Our client's satisfaction id Our priority"
2. "Consistency Is Key "
3. "Innovation is making Something Better by doing it in a new or different way"
4. "Professional and integrated Team"
5. " Keep Up The Excellent Work"
6. Teamwork "Together Everyone Achieves More"
Contact

HK: +85 2 2366 4777
Jakarta: +62 21 2970 4079

info@efinternational.info

Frat 1.5F Cammer Commercial Building 30-32 Cameron Road, Tsim Sha Tsui, Kowloon, Hong Kong